When in New Orleans, speak as a New Orleanian speaks. But how?
First, pronounce the name of the city correctly. It is not pronounced New Or LEENS. True, this pronunciation is used in songs (It rhymes well.) and when referring to Orleans Parish. But that's not the way to pronounce the name of the city itself.
So how do you pronounce it? Here are a few acceptable ways: New OR lins — New AW lins — New OR lee ins — Or even — NAW lins. Just NOT New Or LEENS.
Like a lot of other places New Orleans also has its own special words. Part of the reason is that New Orleans was settled by the French and remained primarily French and Spanish for its first hundred years. This strong French language influence was strengthened first when the Acadians moved to south Louisiana and then again when so many Haitians moved to New Orleans. With a quick web search you will find many sites that have extensive New Orleans dictionaries.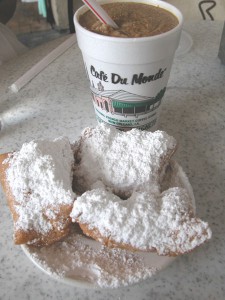 Here is a sampling of a few terms:
Beignet—(BEN'-yay) A delicious fried pastry smothered in confectioner's sugar.
Double—A residential building designed to house two families in side-by-side apartments rather than one above and one below.
Dressed—Lettuce, tomato, pickle, and mayonnaise on your sandwich.
For true—"It's the truth." If the phrase appears as question: "Is it the truth?" It might also be translated as "For real." Or if the phrase appears as a question: "Seriously?"
Lagniappe—(LAN-yap) something extra for free or an unexpected benefit.
Making groceries—Buying groceries or going grocery shopping. Linguists believe this originates in the French verb "faire" which means both "to make" and "to do" and is the verb used in French when shopping.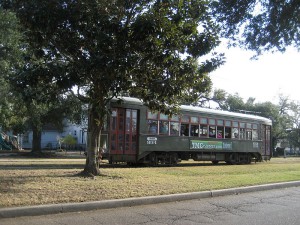 Neutral Ground—the median between street lanes. This term originated from the fact that the Canal Street neutral ground was at one time actually a politically neutral ground between the Creole New Orleanians and the American New Orleanians. In this picture, the streetcar travels on the neutral ground of Carrollton Avenue.
Praline—(PRAH-leen—NOT PRAY-leen) A candy patty made of brown sugar, cream, butter, and pecans.