As Hurricane Katrina approached, people in its path had to decide whether to stay at home or to evacuate. This decision was especially difficult for people with pets.
Many people decided to leave and were able to take their pets with them. For them, the complication was in finding a hotel along the road or a distant shelter that allowed pets. A few hotels that did not usually allow pets changed their rules for the evacuees. Shelters, however, could not change their rules so easily. Many shelters, for example, were governed by national organizations whose rules had never taken into account the fact that people would need to bring their pets with them in an emergency. People who tried to stay at these shelters were forced to move on.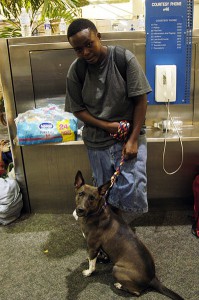 Other people who wanted to evacuate could not bring their pets with them, perhaps because their car was too small or because they were riding with someone else. Even though they had to leave their pets behind, they were not terribly worried because they expected to be safely home in a day or two just as with earlier hurricane threats. One man described leaving food and water for his two dogs and also leaving his house door wide open so the dogs could come and go as they needed. His dogs were much more important to him that any possessions he owned.
Still other people evacuated to local shelters and managed to bring their pets with them. Once the storm hit, these people were evacuated to other places. Some, such as this boy waiting at the airport, were allowed to bring their pets with them.
Unfortunately, others were forced to leave their pets behind. Sometimes these people never saw their pets again. One sad story tells of a young boy at the Superdome in New Orleans who had to leave behind his little dog Snowball. No one knows for sure whether the boy and Snowball were ever reunited.
Finally, some people decided to stay in the path of the storm because of their pets. They refused to leave them. According to TimeUS, almost half the people who stayed in New Orleans stayed because of their pets. When the storm passed, both the person and the animal needed to be rescued. Here an elderly man is being carried by one rescuer and his little dog is being carried by another. Unfortunately, some of these people might have been taken to shelters where they were forced at last to be separated from their beloved pets.