Some say that about 70,000 pets were left behind in the city during the storm. The day after the storm, when the news was reporting that the city had flooded, the owners of these pets realized that they could not get back into the city and that their beloved pets were trapped. From across the country, rescue workers with over four hundred volunteer organizations came to New Orleans and other affected areas to rescue these pets. Even though it was illegal for owners to enter the city to look for their pets, these rescuers were allowed in. One man reported that as he prepared to enter the city, owners came up to his vehicle and gave him their house keys wrapped in a paper with their address written on it. They were begging him to rescue their beloved pets. What the rescuers found when they entered the city was heartbreaking.
Some animals were trapped on piles of wreckage.
Some animals were trapped in flood waters.
Some animals were trapped in homes.
Some animals were dead.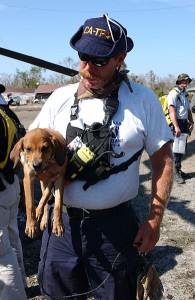 When the animals were too frightened to allow anyone to come close to them, the rescuers left food and water. But there were many animals that allowed the rescuers to come close.
There were many that the rescuers could save.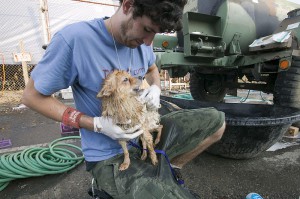 Hundreds of animals were cleaned and treated for physical injuries, illness, dehydration, and starvation. Here, a rescued dog gets washed…
And then dried. In the background, other animals wait for the owners to find them where they are housed at the temporary rescue shelter
Many of these animals were moved out of the devastated storm area to shelters across the nation. Wayne Pacelle, presently president of the Humane Society of the United States, writes about a trip he took escorting rescued dogs to California. They were all seated in a Continental 747 jet, one dog to a seat. Pacelle writes: "It was like something from a Far Side cartoon, complete with chipper flight attendants serving dog biscuits and water. Given the desperate circumstances, everyone was quiet and well behaved, and the sound of the captain's voice had ears up and heads tilted. Not one of the 140 dogs on board was barking or whining — not even the ones stuck in middle seats" (177).
To learn more stories about rescued pets during Katrina, read Mr. Pacelle's book The Bond: Our Kinship with Animals, Our Call to Defend Them.
The Louisiana Society for the Prevention of Cruelty to Animals guessed that in all about 15,000 animals were rescued after the storm.