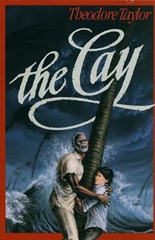 By Theodore Taylor
This book, first published in 1969, was written by Theodore Taylor and is the story of Phillip, Timothy, and  a tiny island.
Phillip is a boy about eleven years old, who is on a ship traveling with his mother from Curacao to the United States to escape German U-boat bombing during World War II.  On the way, their own ship is torpedoed.  Phillip is separated from his mother and thrown into the sea.  He is rescued by Timothy, an old islander.  As they drift in the sea, Phillip slowly goes blind from a blow he received in the explosion.  Eventually they land on an island where they must struggle to survive.
What happens when a hurricane rakes across their tiny cay?   You will have to read the book to find out!