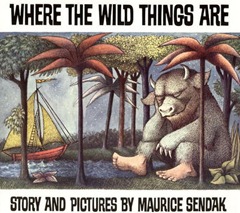 By Maurice Sendak
Where the Wild Things Are  may have been Ben's favorite book as a child.  Maybe that is why he brought it for Gerry.  It is certainly the favorite book of many, many children.  It was first published in 1963 and has been a best seller ever since.
It tells the story of young Max who puts on his wolf suit and makes so much mischief that his mother sends him to bed with no dinner. That night, a forest grows in Max's room.  He gets on his private boat and sails away to where the wild things are.  The monsters roar and gnash their teeth but Max tames them.  When they make him king, he cries, "Let the wild rumpus start!"  When the rumpus is over, Max sends the monsters to bed with no supper and discovers that he is lonely.  When he decides to leave, the monsters beg him not to go and cry, "We'll eat you up—we love you so!"  But Max sails back home in his boat and into his room where he finds his supper waiting and still hot.
Who wouldn't love to have a private boat that sails in and out of weeks and to meet monsters who crown you king and then love you so much they threaten to eat you up!